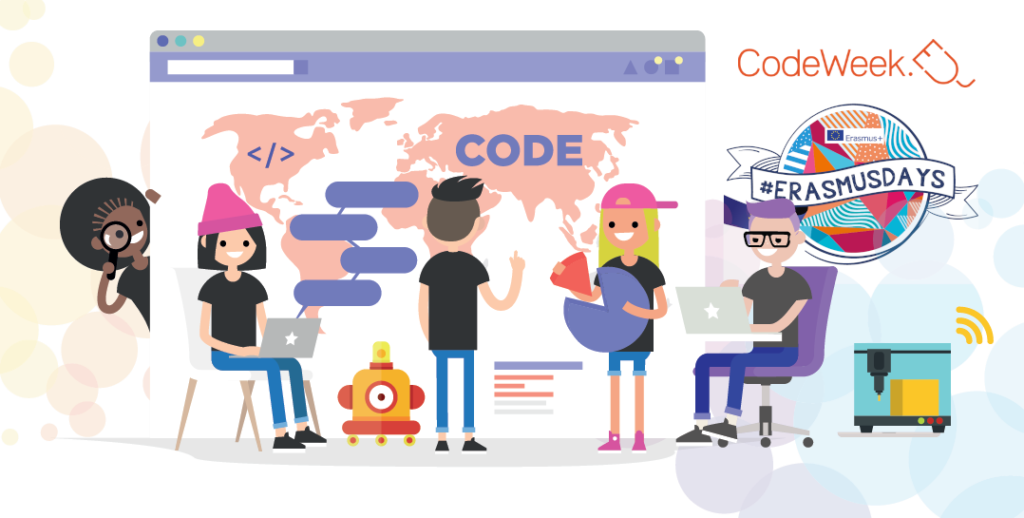 JuezLTI Contest is the international programming contest organized by the developers of the automatic correction tool for programming exercises, databases and markup languages, JuezLTI, for the European programming week (EU Code Week) and the Erasmus Days.
What does this programming contest consist of?
The contest consists of solving correctly, in the shortest time possible, the largest number of exercises set.
Three different exercises will be proposed and there will be two hours to solve them. The following programming languages are currently supported by JuezLTI: java, javascript, php and python.
Once finished, the participating teams will be ordered by the number of problems they solved and time expended in solving them. In other words, the team that has solved the biggest number of problems will win. In the event of a tie in the number of problems solved, the team that solved them before will win.
Teams of one to three people can participate.
When does it take place?
The contest will take place on October 15, 2021, from 10 a.m. to 12 p.m. (CEST). It will be done online, through a course created for this purpose on a Moodle platform.
Is there a prize?
This is a non-profit educational competition. However, the members of the winning team will receive a pendrive as a gift.
In addition, all participants will receive a diploma certifying their participation and the first three teams will receive a diploma certifying their status as winner (first, second and third place).
How can I register?
To participate in the contest it is necessary to be enrolled in an educational center and studying any IT subject. Ask your teacher to register your team by sending the following information to info@juezlti.eu:
Name of the participating educational center
Teacher's name
Teacher's email
Name of the team members (between one and three)
Email of team members.
As soon as the organization processes your application, you will receive an email confirming your registration with instructions for accessing the contest platform.
How do I start the competition?
You will have to access the Moodle platform that we indicate in the registration confirmation email. Once registered, you will receive specific instructions.
Can I test the environment before the competition?
The environment will be available a few days before the competition with a test problem so that you can familiarize yourself with it.
Dissemination
You can publicize your participation in the competition and communicate with other participants on social networks with the hashtags #juezlti #eucodeweek and #erasmusdays